RPG MO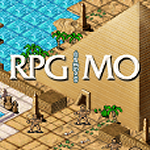 RPG MO is an online multiplayer role-playing game where players build up combat and magic skills, and acquire spells, weapons and armor to become formidable fighters, and they also may build up crafting skills and create items for themselves or for sale to others.
Device Not Supported
We are sorry, but RPG MO is not available on your phone. The following devices are currently supported: Android, iPhone, iPod Touch, and Blackberry devices running OS 6.